Featured for 2010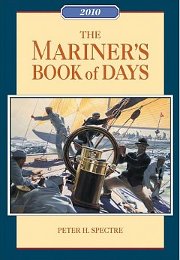 The much loved Mariner's Book of Days, 2010 edition is out. Part calendar, part encyclopedia of nautical fact, fiction, and folklore. Both entertaining and a valuable reference, each annual edition has become a collectors item. On every right-hand page is a week of days, with the nautical significance of each explored in brief. On each left-hand page is a collection of nautical miscellany evoking the rich traditions of the sea. Illustrated with beautiful historical etchings, engravings, sketches, and watercolors.
Welcome!
In 1993 I started this site as a place to share lyrics to traditional maritime songs, particularly sea shanties. It's also a place to find relevant books and CDs.
People come to love sea songs in many ways: Some grow up by the sea. Some fall in love with sailing, done the traditional way on talls ships. Some are just having a lot of fun with the pirate theme. However you find them, these are songs that do what music does at its best: they make you feel connected to something powerful. Whatever your interest, I hope you'll find something here that inspires you!
Happy sailing and singing!